Automobili Lamborghini unveils Huracán EVO Spyder at Geneva Motor Show 2019: breath-taking performance and presence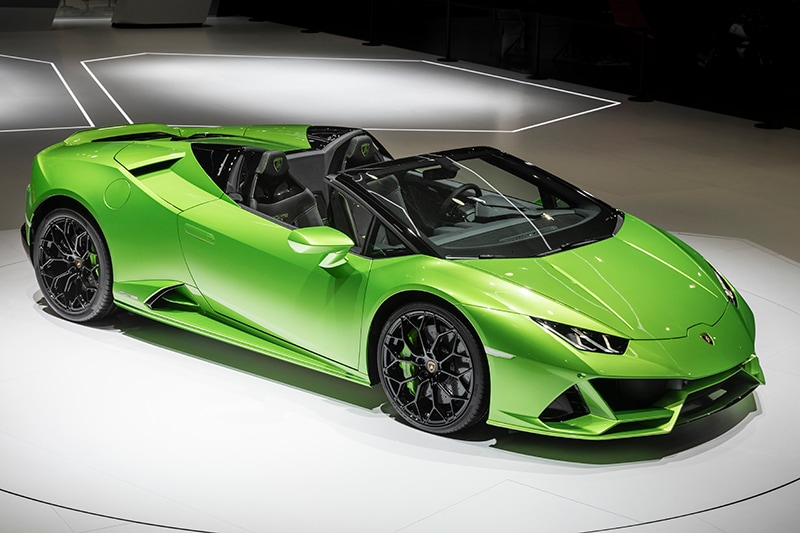 Sant'Agata Bolognese, 26 February 2019 - Automobili Lamborghini presents the new Lamborghini Huracán EVO Spyder at Geneva Motor Show: the open-top car joins its coupé counterpart launched earlier this year, as the second model in the V10 Huracán EVO line-up.
New Lamborghini Huracán EVO design translated into open-air exhilaration 
Electrohydraulic, lightweight soft top for pure Spyder feeling
Aerodynamic superiority maintained roof up or down
Engine derived from Huracán Performante, producing 640 hp and 600 Nm of torque
Acceleration 0-100 km/h in 3.1 seconds, top speed 325 km/h 
New infotainment system with advanced connectivity features
The Spyder adopts the next-generation vehicle dynamic control and aerodynamics developed for the coupé, with the 5.2 liter naturally-aspirated Lamborghini V10 engine uprated for a higher power output and incorporating Titanium intake valves. The Huracán EVO Spyder outputs 640 hp (470 kW) at 8,000 rpm with 600 Nm of torque delivered at 6,500 rpm. With a dry weight of 1,542 kg the car reaches a weight-to-power ratio of 2.41 kg/hp, accelerates from 0-100 km/h in 3.1 seconds and from 0-200 km/h in 9.3 seconds. Braking from 100 km/h to 0 is achieved in just 32.2 m, with a top speed of 325 km/h.
"The Huracán EVO Spyder incorporates all the performance, next-generation vehicle control and aerodynamic features of the EVO coupé, with its own unique personality and a driving excitement that only an open-top car can offer," says Stefano Domenicali, Chairman and Chief Executive Officer of Automobili Lamborghini. "The Spyder continues the Huracán EVO's evolutionary charge: extremely easy to drive while excelling as a highly responsive, fun super sports car. Particularly with the roof open, the emotive sound of the naturally aspirated engine and the refined, lightweight exhaust system take the sensory experience to a new level. The Huracán EVO Spyder's design, performance and exhilarating open-air drive experience is literally breath-taking."