Lamborghini Ohio dealership in Dublin, Ohio.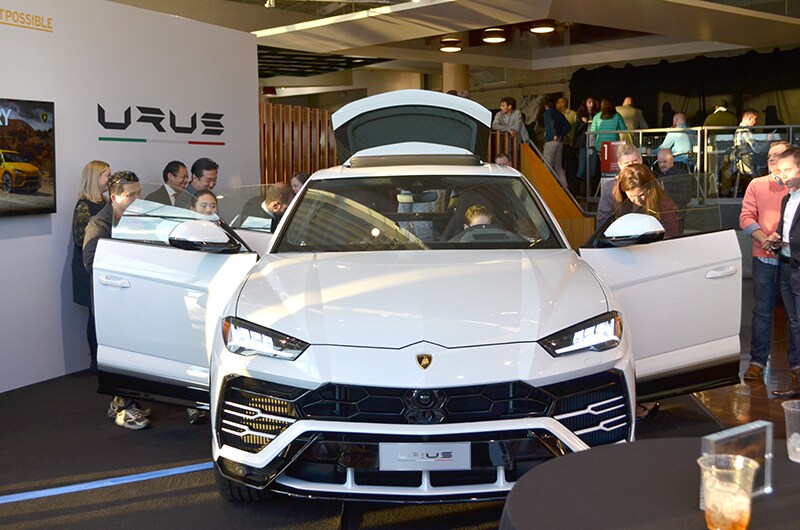 Our customers from all around the world and the United States come to visit us in Dublin, Ohio. Lamborghini Ohio is the only Lamborghini dealer in Dublin, serving areas like Columbus, Cleveland, Cincinnati, Toledo, Upper Arlington, Dublin, New Albany, Porlaris, Lewis Center, and all the surrounding areas are just a short drive away. If you are interested in seeing our full inventory, including the most exotic vehicles that we just can't show online due to their rarity, then come down to Lamborghini Ohio and see us. We even have customers that shop right from home and make purchases without even seeing the vehicle in person. Our team is trained to help our customers in any way that best suits them and if that means selling a vehicle through email because the customer lives far away then that is what our team will do.
We have a large showroom in Dublin, Ohio that has attracted customers from all over the country, and even internationally. Our showroom has the latest in performance technology from Lamborghini. Putting these vehicles on display allows customers to come to our dealership and see our exotic lineup firsthand. We encourage customers to come to Lamborghini Ohio in person and experience our inventory for themselves.
Trust that Lamborghini Ohio is the best place to purchase your dream vehicle. Our friendly and knowledgeable staff will assist you every step of the way to ensure that you are satisfied with your new vehicle. We sell the best brands out there including Lamborghini. We pride ourselves on offering our customers a buying experience that is different than the traditional dealership.
At Lamborghini Ohio, we invite people to come on down to our dealership to check out our inventory even if our vehicles are not in your price range quite yet. Our philosophy is to be open with our customers and possible future customers by allowing them to touch, feel and even photograph our inventory. We focus on building and maintaining relationships with every one of our customers and we would love it if you gave us a visit.