Automobili Lamborghini launches the Aventador SVJ Roadster at Geneva Motor Show 2019: exclusive open air driving perfection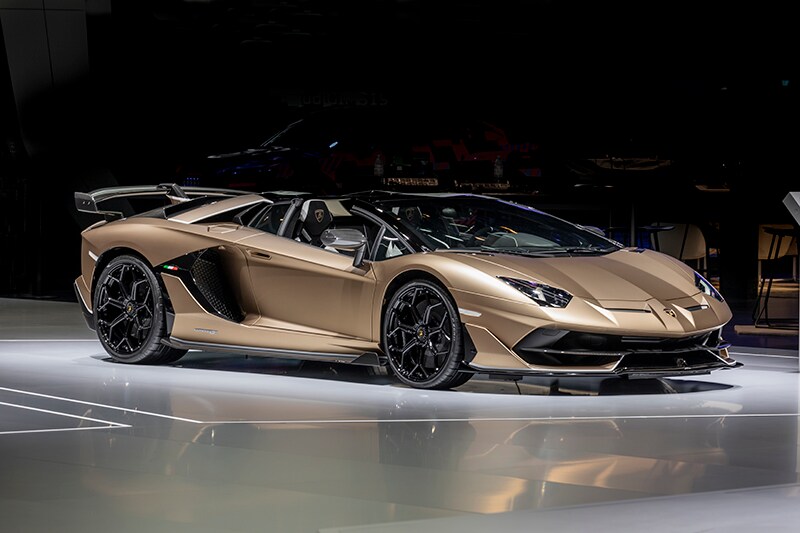 Sant'Agata Bolognese/Geneva 4 March 2019 - The Aventador SVJ Roadster makes its worldwide premiere at Geneva Motor Show, presented by Automobili Lamborghini in a press conference on its stand, alongside the new Huracán EVO Spyder that also makes its international debut. The open top version of the coupé, the Aventador SVJ Roadster upholds the exceptional performance, handling and aerodynamic superiority of the SVJ, with its unique roadster design granting an exclusive open air exhilaration to both driver and passenger.
Aventador SVJ power, performance and technologies in a roadster 
Naturally aspirated V12 engine, outputting 770 hp at 8,500 rpm and 720 Nm torque at 6,750 rpm 
Lightweight materials, racing solutions and ALA 2.0 for best handling performance 
Acceleration 0-100 km/h in 2.9 seconds and top speed in excess of 350 km/h 
Produced in just 800 units
"The Aventador SVJ Roadster inherits all the power, performance and ground breaking aerodynamic technologies of the coupé, but with its own iconic presence and prowess," says Chairman and Chief Executive Officer of Automobili Lamborghini, Stefano Domenicali. "It is as fundamentally exciting to drive as the Aventador SVJ but with an added exclusivity: the option of the open air. With the same extraordinary performance roof on or off, the Aventador SVJ Roadster incorporates the dynamism of the coupé with the unique spirit of a Lamborghini roadster." 
The SVJ Roadster sports the 'Super Veloce' for superfast and 'Jota' suffixes, signifying the car's performance and track prowess: its coupé stablemate took the Nürburgring-Nordschleife production car record lap-time and the roadster is no less a futuristic, driver's car. Benchmark performance comes from the most powerful series production V12-engined car produced to date by Lamborghini, outputting 770 hp (566 kW) at maximum 8,500 rpm. The SVJ Roadster delivers 720 Nm of torque at 6,750 rpm, with a weight-to-power ratio of 2.05 kg/hp. The SVJ accelerates from standing to 100 km/h in 2.9 seconds and from 0 to 200 km/h in 8.8 seconds. A top speed of more than 350 km/h is complemented by a braking distance of 100 km/h to 0 in 31 meters. 
The specification of the Aventador SVJ is virtually limitless through Lamborghini's Ad Personam customization program, and the car on display in Geneva shows only one of almost 350 colors available. In the interior every single leather and Alcantara part can be specified upon customer demand. The program is offered through every authorized Lamborghini dealer and it is also possible for customers to access a very exclusive area in the Lamborghini factory to create a unique car.