2023 Lamborghini Urus Performante
For Bar Raisers Only
What is an exotic sports car? Some might think of the usual beloved motifs: two flared doors opening upwards, silhouettes as sharp and sleek as fighter jets, ground clearance low enough to rival the gap below your front door. But what if these elements -- so integral to the experience of owning a vehicle belonging to the highest strata of automotive excellence -- were recalibrated to match the everyday needs of even the most discerning buyers?
This is no rhetorical question, at least not for Lamborghini. They first addressed this concept with the groundbreaking Urus, and now the brand is further ratcheting up the performance quotient with the new LamborghiniUrus Performante. Don't call it an SUV -- this is a Super Sport Utility Vehicle, with the quintessential Lamborghini emphasis on Sport.
The Urus Performante specs, features and design come together to create a vehicle like no other: a singular realization of what happens when the best exotic car engineers aim to package exceptional performance in an everyday package. Read our complete overview below, then visit our Lamborghini dealer near Columbus to custom order a Urus Performante in Ohio today.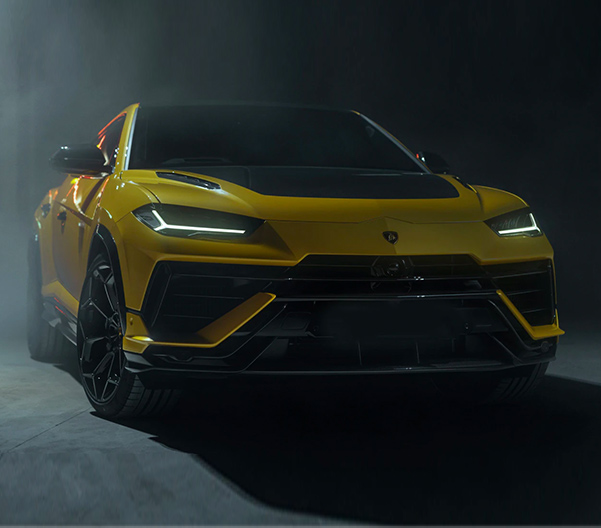 Lamborghini Urus Performante Specs & Features
The magic of the new Lamborghini Urus Performante begins below the bodywork. Thanks to extensive use of lightweight materials like carbon fiber, the Urus Performante curb weight is down significantly compared to models in the standard range. From behind the wheel, this is apparent in the heightened immediacy and responsiveness of the chassis.
Under the hood, the Urus Performante engine is a masterpiece of Italian engineering. This 4.0-liter, eight-cylinder powerplant delivers 657 horsepower and 627 pound-feet of torque and breathes through a sport titanium exhaust system. Every rumble, pop and crackle emitted by the exhaust outlets conveys with visceral clarity why so many Columbus Lamborghini owners have submitted an Urus Performante preorder request.
Inside, the Urus Performante interior blends performance-focused design with advanced technology and elegant appointments. Infotainment functions such as Connected Navigation Services are augmented by remote accessibility options offered through Lamborghini Connect. The level of technology and intention of design makes clear that this is not just a cabin, but a cockpit -- and you are the pilot.
Custom Order a Lamborghini Urus Performante Near Me
The latest of the high-performance Lamborghini Urus trims leaves nothing on the table. Every aspect of the new Urus Performante is exceptional in every measure, from its blisteringly quick 0-60 mph times to its dramatically styled and beautifully outfitted interior. If you hope to park this Super Sport Utility Vehicle in your garage, contact Lamborghini Ohio and review our Urus Performante custom order options today.